GNC CNC Makina Teknolojiler at the Largest Machine Fair in Turkey, 'Maktek 2018'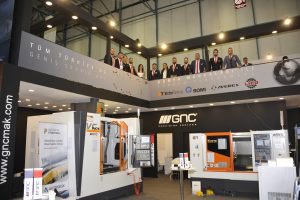 GNC CNC Makina Teknolojileri participates in 'MAKTEK Eurasia 2018' fair which will bring together the production sector professionals at Istanbul Tüyap Fair and Congress Center between 2-7 October.
GNC CNC Machinery Technologies will be waiting for production professionals in Hall 5, Stand 514 at MAKTEK Fair which is held in Tüyap Fair and Congress Center in Istanbul every 2 years, and is the largest fair in Eurasia region for turning machines, which is the main production tool of the machinery and manufacturing industry.
GNC CNC Machine Technology, which is distributor in Turkey of global giants such as Victor, Averex, Lico and Romi, will exhibit new models developed with the high end technology of turning machines branded Victor and Averex, which are preferred by many manufacturing industries in MAKTEK 2018 fair. Victor Taichung Chairman Bert Huang, Averex Automation Chairman Brayn Chen and William Tsai will be present at the GNC CNC Makina Teknolojileri stand, who will attend this year's fair as guests.
Visitors who want get information on cutting-edge technology machines that are developed to meet quality, speed, productivity and investment return expectations of manufacturers from automotive, machinery, defense and aviation, electrical and electronic, white goods, mold, agricultural machinery, plastic machinery, packaging machinery, business and construction machinery, medical equipment, food machinery, shipbuilding, iron steel and foundry industries will be welcome and be informed by expert product representatives in the GNC CNC Makina Teknolojileri. All companies that visit the stand and decide to invest in machinery will be provided with special payment and discount advantages for their machinery purchases. Moreover, CNC LATHE PROGRAMMING and CNC MILLING PROGRAMMING books prepared by GNC CNC Makina Teknolojileri for professionals were presented to the interested parties visiting our stand.